future of co-working space

Co-working spaces are gaining popularity in this world with growing start-ups and freelancers. And not just popularity, co-working spaces have also grabbed an irreplaceable status among the entrepreneurs, start-ups, freelancers, and SMEs because who wouldn't love to have an energetic workplace to spend the maximum part of their day in. And the aroma of coffee is just the cherry on the top. No surprise that many people now prefer co-working spaces over the regular monotomous offices. Apart from the great facilities co-working spaces are light on the pocket as well where one pays according to the need of space.
With the increasing popularity, many co-working spaces have sprung up in tier I and some of the tier II cities.In order to survive in this competition, co-working spaces need to grab their space and audience in the market. One can leverage the power of digital marketing to market their co-working space and reach potential customers.
There are many ways to build and use the digital space to market co-working spaces. Here is the step by step guide on how to market your co-working space digitally.
Google My Business
First of all, in order to create a presence in digital space, you need to list your co-working space business on Google My Business. Along with the aesthetic pictures of your co-working space and the contact information for your potential customers it also provides you with an authentic badge in the suspicious internet world.
Website
Secondly, you can also create your website where you put out the detailed information, photos as well as the pricing for the co-working space. Your website can provide personalized feeling to potential clients by providing them with customized plans as per need or a form where the user fills in his/her details to get a call for more information.
Reviews
The next step would be to establish your reputation in this niche. Get the reviews on google from your existing customers. Reviews are a reality check & trust building factor for potential customers.
Social Media Accounts
Also maintain social media page for your co-working space on platforms like Facebook, Instagram, Pinterest, Twitter, and Linkedin depending on which platform your target audience is engaged on mostly. Keep the social platform account responsive to any customer queries, comments or issues and also try to get reviews on your social media platforms as well. Getting customer feedbacks and testimonials and sharing them on your social media platforms could be one way to build audience engagement as well as a reputation for your brand. Also, share the real-time images of your co-working space on your social media accounts so that your potential customers could grasp everything your co-working space has to offer. You can also ask your customers to share your social account posts among their peers. This will grow your reach as well as business more organically with minimum investment.
SEO Ranking
Try to rank your website or social accounts for the relevant keywords, the keywords your target customer might search on google or any other search engine. Maintain good quality and authentic content for your website as well as other accounts on digital space and try to get organic traffic to your website by performing good SEO practices.
SEM & Ad Campaigns
After all the things mentioned above now is the time to try for google ads or run ad campaigns on social media platforms like Facebook and Instagram. These Ads are really powerful as they appear in the results when people are actually searching for co-working spaces in some areas. Also, the ad campaigns on social media allow you to target the audience depending on the characteristics you think your potential customers might have such as entrepreneurs, freelancers, and small companies etc.
All these combined together will create a great digital marketing plan for marketing the co-working spaces to reach the right customers and grow your business.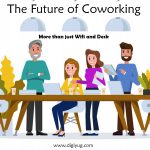 Co-working spaces are now becoming too much popular among small and big organizations. As we are moving towards a modern and fast economy the coworking spaces are becoming more trending as they are affordable for those who are looking for a flexible working style.
Offering your tenants/customers a flexible coworking space should be your main goal if you are thinking of opening a coworking space as shared offices are now increasing the popularity amongst youth because of flexibility.
Basically, co-working spaces are part of the future non-standardized form of employment where we have flexible timing, working environment, and endless opportunities to meet new people.
5 Reasons Co-working Spaces Are Now  The Way Of The Future
#Flexibility:
Unlike traditional office spaces, co-working space offers massive flexibility to the employees and other people in the organization as it allows one to choose between an array of options for buying the membership. One can choose to rent a space for a month,3 months or a year depending upon the requirement without paying any penalty he/she can leave space anytime he wants by informing the owner
Most of the trending plans for coworking spaces have a membership option with internet access, daily access and so on.  
#Affordability:
Renting an office space for a whole year can be expensive for those who keep on for business purpose. But if you using a coworking space then you can easily travel without spending too much money and will also get the facilities for smooth of your business. The main reason for especially startups and small business are moving towards co-working spaces is to do cost cutting.
#Networking Opportunities:
Earlier to grow business you have to do by giving a business card at a roundtable corporate events but now the new trend of marketing is focussed on growing real relationships. Coworking spaces provide most affordable networking opportunities by spending monthly and meeting new people every day.
Most coworking spaces provide monthly meetups event so that it helps everyone to meet and grow more business by people working around them.
#Amazing Amenities:
Coworking spaces offer their members an amazing amenities at pocket-friendly prices. Few of the amenities are listed below :
Reliable and high-speed internet

Conference room for meetings

Printer access

Coffee vending machines etc
These all amenities depend upon the place to place.
#Productivity Benefits:
Apart from giving personal and economical benefits, coworking spaces help to get the professional benefits as well. Being a member of a coworking space, it allows one to be surrounded by highly motivated, ambitious people on a daily basis. It is easier to grow more when you have such positive vibes around you