benefits of co-working space
Background vector created by vectorpouch – www.freepik.com
When people think of shared coworking spaces, the image that comes to our mind includes freelancers or solo-entrepreneurs, but the fact is startup teams or even big business are also moving towards shared working environments.
Now, the commercial offices are transforming into new and more collaborative workspace design architecture and now many of the businesses and even enterprises are feeding the demand for #coworking trends.
'Workplace for future', 'Alternate office' or 'flexible offices' – these are many synonyms of coworking shared spaces. It started a few decades ago as an innovative solution for freelancers and young startups have now become a #trending thing. According to the latest research, more than 1 million companies have started using coworking spaces for their business operations.
There is a shift towards enterprising moving towards coworking spaces such as tuition centers, research labs, or satellite office, etc
Let's dash into some of the values that ingenious startups get from working out of shared coworking workspaces.
#1 Shared Offices Encourage More Connections with fellow workers, Which Also Increases Productivity of business:
One of the most fascinating facts of coworking shared space is that you can meet people of different interests, different mindsets, different culture, etc., which can help you grow as you can get new ideas or new thought for any kind of a problem. You can also grow your team by connecting with people around you, there are freelancers who are also using coworking spaces for their work, or you can grow your business by connecting with other business owners who are using that space along with you. You can also call other fellow members of shared space to your product launch which in returns helps to get more productivity to your business.
#2 Look the Part with a well Equipped Space that Impresses Clients, Job Candidates, and Investors:
when you are in the first few years of major growth activities of your business, then having a professional meeting/conference space is required. Coworking spaces raised popularity because they understood how much it is important to have a well-structured office for meeting up your clients or investors.
Having the right ambiance and the right environment is the key to business success. As bringing investors or clients to clean, fully-equipped with modern technology, a conference room with a whiteboard and round table and stylish office with good interior can build trust and confidence.
This Might help you get a handsome amount of funding for your startup or your business. Moreover, this attracts the youth to join your company as you have such a healthy environment around you.
#3 Take Advantage of Low-Commitment with High Convenience:
Most of the coworking shared spaces offer monthly, daily or hourly memberships with amenities such as high-speed wi-fi facility, free tea/coffee, meeting rooms, conference rooms, cafeterias, printer facilities, etc, hence helps you in keeping your business overhead costs to a minimum. You can even customize your package as per your requirements like you know you do not need a conference room or tea/coffee services then you can go for customized services as well.
Big Businesses are also using coworking spaces as they don't have to manage anything of their own such as a power cut off, wifi bills, Tea/coffee bills, fixed tenure agreement, etc. They can completely focus on their business and can make it a huge success.
#4 Innovation options for your Business:
Coworking shared spaces also provide an exhilarating environment to innovate and harness their creativity. Tech & IT companies are always in an infinite "war for talent" situation. Finding the right and topmost talent is an extremely difficult part. Individual factors such as the working place and other benefits can make a huge difference.
By providing the coworking shared space for their employee, staff can decide exactly how, where and when they choose to work, ultimately helping in increasing the productivity, morale and also encourage the innovation out of the box from the team.
Coworking work culture represents a modern lifestyle, which attracts the young and energetic generation. Nowadays companies want energetic and innovate people who can think beyond the way normal people think. When you do not have to worry about anything around you can focus on your work in a more efficient way.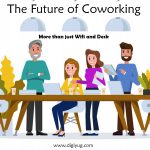 Co-working spaces are now becoming too much popular among small and big organizations. As we are moving towards a modern and fast economy the coworking spaces are becoming more trending as they are affordable for those who are looking for a flexible working style.
Offering your tenants/customers a flexible coworking space should be your main goal if you are thinking of opening a coworking space as shared offices are now increasing the popularity amongst youth because of flexibility.
Basically, co-working spaces are part of the future non-standardized form of employment where we have flexible timing, working environment, and endless opportunities to meet new people.
5 Reasons Co-working Spaces Are Now  The Way Of The Future
#Flexibility:
Unlike traditional office spaces, co-working space offers massive flexibility to the employees and other people in the organization as it allows one to choose between an array of options for buying the membership. One can choose to rent a space for a month,3 months or a year depending upon the requirement without paying any penalty he/she can leave space anytime he wants by informing the owner
Most of the trending plans for coworking spaces have a membership option with internet access, daily access and so on.  
#Affordability:
Renting an office space for a whole year can be expensive for those who keep on for business purpose. But if you using a coworking space then you can easily travel without spending too much money and will also get the facilities for smooth of your business. The main reason for especially startups and small business are moving towards co-working spaces is to do cost cutting.
#Networking Opportunities:
Earlier to grow business you have to do by giving a business card at a roundtable corporate events but now the new trend of marketing is focussed on growing real relationships. Coworking spaces provide most affordable networking opportunities by spending monthly and meeting new people every day.
Most coworking spaces provide monthly meetups event so that it helps everyone to meet and grow more business by people working around them.
#Amazing Amenities:
Coworking spaces offer their members an amazing amenities at pocket-friendly prices. Few of the amenities are listed below :
Reliable and high-speed internet

Conference room for meetings

Printer access

Coffee vending machines etc
These all amenities depend upon the place to place.
#Productivity Benefits:
Apart from giving personal and economical benefits, coworking spaces help to get the professional benefits as well. Being a member of a coworking space, it allows one to be surrounded by highly motivated, ambitious people on a daily basis. It is easier to grow more when you have such positive vibes around you