Data Breach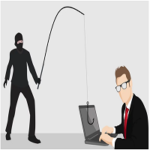 Cyber Security has become one of the priorities of businesses. Businesses have to follow certain rules and regulations in order to remain compliant. One side where organisations are building their Information Security and Cyber Security capabilities on the other hand it is equally important to have a knowledgeable leadership which is at least aware of basic Cyber Security concepts.
Cyber-crimes and attacks creates a huge impact our organisation' security, organisation's financial growth, and consumer confidence. Each and every business regardless of size or geographic location, is a potential target for hackers. Preparing for and responding to this growing cyber threat is necessary – and it is an executive level responsibility.
There have been many cases where top management becomes victim of cyber security frauds and incidents because of lack of information security awareness.
Although cyber awareness is mandatory for everyone working in the organisation, however it is more essential for the leadership.
Reasons, why top management should attend cyber security trainings:
Top management often works on privileged accounts, i.e. mostly they work with admin privileges in their systems, hence can lose critical information during any cyber-attack.
Generally top management IT systems does not comes under continuous monitoring, so it becomes easier for the hacker or malicious user to intrude inside the system and remain undetected.
Top management has very crucial data about the business which has very high "Hack Value" i.e. the data is worth hacking which generally attracts hackers and competitor.
Top management generally are the not aware of cyber security and information security's day to day things, so they are most vulnerable for any cyber threat.
Top management is mostly using their IT systems outside the organisations network such as conferences, hotel rooms, investors meeting etc since they travel a lot for business purposes. They should be aware of dos and don'ts of cyber security and information security.
Data leakage from any top management's system could damage the organisations reputation.
Top Management often fell prey of cyber security incidents because of their popularity among the rest of world and their credentials available online
Top managers are most of the times very good management professional, however they lack good IT security skillset, which could be achieved by attending cyber security awareness trainings
What is the Role of Leadership in Information Security Management System (ISMS)?
Leadership plays very important role in Information Security Management System.
Leadership defines the policies and procedures for Cyber Security and Information Security with respect to the regulatory compliance.
Leadership provides appropriate financial, technical and human resources for maintaining Information and Cyber Security.
Leadership is responsible for periodic review of Information Security and Cyber Security status of the organisation.
Leadership is also responsible for periodic review of risk pertaining to Cyber Security and information security and treatment of high level risk which could be detrimental for the organisation's growth
Leadership is responsible for Risk Treatment: Risk Mitigation, Risk Avoidance, Risk Acceptance, and Risk Sharing. The resources to mitigate Information Security and Cyber Security risk shall be provided by leadership
What should be the content of Cyber Security awareness training?
 Training should give a basic understanding of information security and cyber security. Clear definition and examples of Confidentiality, Integrity and Availability should be provided.
Basics of information systems
Definitions and examples of IT systems like networks and application
Examples of Information Assets: Networks, Application, People, Documents
Importance of cyber security and information security
Difference between Information Technology and Information Security Governance system
Importance of reviewing information security and Cyber security status of the organisation.
Difference between IT security and Information Security
Importance of developing Information Security and Cyber Security training and awareness among employees including vendors and contractual staff.
Regular Development of competence among the employees for handling information security and cyber security issues.
Importance of business continuity and disaster recovery.
Common threat scenarios like phishing, spoofing, Vishing (voice phishing) should also be demonstrated during information security training.
Risk pertaining to third party or services outsourcing.
Information and cyber security compliance.
Change management, capacity management, backup management and incident management.
Importance of vendor risk assessment and third party security audits.
Basics of user access management and asset management
Aspects of vulnerability management and patch management.
Importance and process of Cyber security forensics process.
Basics of encryptions and importance of its usage for information security.
Cyber resilience and table top exercises.
Information Technology and Information Security works hand in hand. Both compliments each other however both are different domains. In many cases it has been observed that due to lack of appropriate knowledge and training many leaders/Top Management are unable to take right decision pertaining to information security and Cyber security which could lead to serious compliance issues sometimes. Attending an awareness session shall be definitely helpful for organisations growth.
A comprehensive training program will help the Top Management to understand the basics of Information and Cyber Security threats and risks. It's also help the leadership to understand how the compliance for the same should be managed.
Organizations that are the most prepared to mitigate cyber risks have top management/leadership that are aware and informed of the current cyber security and information security threat environment. Executives and Boards of Directors set organisations policy, approve financial & human resource budget, and provide oversight and leadership. Setting the governance from the top is essential. Cyber security risk management is often considered as an IT issue, however it is a cross-departmental responsibility that requires executive leadership and support. It is very important of any organisation to identify and mitigate any kind of cyber security or information security risk.
There are many online and in house customised training programmes are available worldwide for enhancing cyber security skills at each level in the organisation. A cyber security awareness session would definitely be helpful in order to understand the current risk scenario and how to deal with those situations.
#Tags: Data Breaches,training, top management,executives
#Keywords:Cyber Security, Information security,training,risk, threats,leadership,capacity management, change management, backup,encryption,hack value,
Information security has become a very lucrative career now a days. Every organisation is trying to build their Information security team because of regulatory compliances, market competition and last but not the least increase of cyber security risk on information systems.
Information security is associated in every field of organisation and at least basic awareness is expected from everybody, however a skillset is required to govern and drive the whole Information Security within an organisation.
One can jump into information security at different levels of his/her career, irrespective of his/her educational background. To make it more clear let's consider few scenarios here
SCENARIO ONE
Anyone who is planning to get into Information Security can start their planning from higher secondary level. In this case the student needs to opt for subjects like Physics Chemistry, Mathematics and IT/IP. Then he/she needs to opt for BTech in Computer Science of IT or BCA(Bachelors of Computer Applications).You can start preparing during your graduation, start formal trainings like on Networks and Servers, and make your fundamentals strong. Gradually by the end of your graduation you can go for CEH(Certified Ethical Hacker), which is an introductory course in Cyber Security.With all these expertise and certifications one can definitely start their career in InfoSec.
Tip: If you are planning for any certification during your graduation do it in the last year because a certification has an expiry date(mostly 3 years from the date of issue)
SCENARIO TWO
If you are not an IT graduate, say you are pursuing B.Sc. or B.Com or B.A., even then you can work in information security. You need to do go for basic trainings network and server trainings like Scenario One. A lot of hard work, dedication and perseverance can make anything possible. A CCNA, Red Hat Linux, Server Administrations and CEH certification will definitely be helpful.
SCENARIO THREE
If you are a working in IT (Information Technology) and now like to switch to information security first generate skill sets in networks, servers and basic cyber security skillset like network security or application security. Once you have good knowledge of Cyber Security, now you can pursue ISO/IEC 27001 Internal Auditor or ISO/IEC 27001 Lead Auditor or Lead Implementer training. After successful completion of training and certification one can start career as an Internal Auditor, Lead Auditor or Lead implementer respectively. You can also work as an Information Security Risk Assessor or a third party auditor.
SCENARIO FOUR
If you are a senior level executive having basic skillsets of cyber security and you want a complete migration to Information Security domain, you can start with ISO 27001 Lead Auditor or ISO 27001 Lead Implementer, then gradually you can obtain CISA (Certified Information System Auditor) and CISSP (Certified Information System Security Professional). Certifications like CISA and CISSP are of very high value and one can be a top level information security executive like CISO(Chief Information Security Officer) of any organisation, however these position also requires managerial skill set along with technical skill sets.
SCENARIO FIVE
If you are working at a senior position in any organisation in Sales, procurement or any other non IT department and you are fascinated with Information Security and want to pursue your career in it. Yes, you still have chance. What all you need to do is generate a basic skillset in Network and IT infrastructure and you are good to go.
Later on you can learn basics of Cyber Security like Ethical Hacking and can pursue different Information Security Certifications like ISO 27001, PCI-DSS, GDPR etc.
SCENARIO SIX
If you are an IT graduate then you can also pursue Masters in Information Security, after this you can directly start your career in Information Security as a Consultant. MBA with Information Security is a good way to start your career in Information Security. Organisations hire these candidates because they can work both in technical and not technical domains.
SCENARIO SEVEN
One with a non-technical background and having interest in Information Security can opt for a career in Cyber Laws. After pursuing this one can work as a Legal Consultant with any organisation. This job is also in demand because organisation faces many legal challenges pertaining to Information Security every other day and they need consultants and experts who can guide them in different scenarios.
SCENARIO EIGHT
If you are a programmer in your existing job profile, you can learn secure coding techniques and hence you enter in information security domain. Now a days many attacks are happening at application level, because of flaws in existing source code. Knowledge in secure coding will definitely be an extra edge for your career and can give you a smooth entry in information security domain.
SCENARIO NINE
If you have an investigative mind set then Computer forensics is a good option for you. This role comes into picture when any Cyber Security incident happens in any organisation. A Computer Forensics investigator check the systems and finds out the root cause of the problem, and later on organisation can patch or implement another corrective action on the issue and can prevent recurrence. CHFI (Computer Hacking Forensic Investigator) is a popular certification for this career.
SCENARIO TEN
If you have a good knack of teaching, you can start your career as Information Security Trainer after completion of your graduation and basic Information Security training. Training is very lucrative career among many experienced professionals as well. There are many professionals who are involved into part time training and thus can start their career in Information Security.
From all the above scenarios we can clearly see that Information Security is a path, one cannot attain it overnight. Moving ahead step by step will ease your journey. All the steps in this are equally important. One needs a strong dedication and determination. With our changing business scenario, where the aspect of threat and risk is changing every other day one needs to be updates with the current regulator and statutory requirements.
Tags: BTech, BSc, Cyber laws, career, jobs in cyber security
Keywords : Information Security, Cyber Security, Forensics Investigator, ISO 27001, CISA,CISSP, CHFI, CEH, CCNA.