right co-working space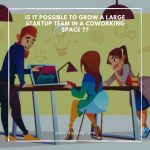 Background vector created by vectorpouch – www.freepik.com
When people think of shared coworking spaces, the image that comes to our mind includes freelancers or solo-entrepreneurs, but the fact is startup teams or even big business are also moving towards shared working environments.
Now, the commercial offices are transforming into new and more collaborative workspace design architecture and now many of the businesses and even enterprises are feeding the demand for #coworking trends.
'Workplace for future', 'Alternate office' or 'flexible offices' – these are many synonyms of coworking shared spaces. It started a few decades ago as an innovative solution for freelancers and young startups have now become a #trending thing. According to the latest research, more than 1 million companies have started using coworking spaces for their business operations.
There is a shift towards enterprising moving towards coworking spaces such as tuition centers, research labs, or satellite office, etc
Let's dash into some of the values that ingenious startups get from working out of shared coworking workspaces.
#1 Shared Offices Encourage More Connections with fellow workers, Which Also Increases Productivity of business:
One of the most fascinating facts of coworking shared space is that you can meet people of different interests, different mindsets, different culture, etc., which can help you grow as you can get new ideas or new thought for any kind of a problem. You can also grow your team by connecting with people around you, there are freelancers who are also using coworking spaces for their work, or you can grow your business by connecting with other business owners who are using that space along with you. You can also call other fellow members of shared space to your product launch which in returns helps to get more productivity to your business.
#2 Look the Part with a well Equipped Space that Impresses Clients, Job Candidates, and Investors:
when you are in the first few years of major growth activities of your business, then having a professional meeting/conference space is required. Coworking spaces raised popularity because they understood how much it is important to have a well-structured office for meeting up your clients or investors.
Having the right ambiance and the right environment is the key to business success. As bringing investors or clients to clean, fully-equipped with modern technology, a conference room with a whiteboard and round table and stylish office with good interior can build trust and confidence.
This Might help you get a handsome amount of funding for your startup or your business. Moreover, this attracts the youth to join your company as you have such a healthy environment around you.
#3 Take Advantage of Low-Commitment with High Convenience:
Most of the coworking shared spaces offer monthly, daily or hourly memberships with amenities such as high-speed wi-fi facility, free tea/coffee, meeting rooms, conference rooms, cafeterias, printer facilities, etc, hence helps you in keeping your business overhead costs to a minimum. You can even customize your package as per your requirements like you know you do not need a conference room or tea/coffee services then you can go for customized services as well.
Big Businesses are also using coworking spaces as they don't have to manage anything of their own such as a power cut off, wifi bills, Tea/coffee bills, fixed tenure agreement, etc. They can completely focus on their business and can make it a huge success.
#4 Innovation options for your Business:
Coworking shared spaces also provide an exhilarating environment to innovate and harness their creativity. Tech & IT companies are always in an infinite "war for talent" situation. Finding the right and topmost talent is an extremely difficult part. Individual factors such as the working place and other benefits can make a huge difference.
By providing the coworking shared space for their employee, staff can decide exactly how, where and when they choose to work, ultimately helping in increasing the productivity, morale and also encourage the innovation out of the box from the team.
Coworking work culture represents a modern lifestyle, which attracts the young and energetic generation. Nowadays companies want energetic and innovate people who can think beyond the way normal people think. When you do not have to worry about anything around you can focus on your work in a more efficient way.
Coworking spaces are gaining popularity now in India as well. As the no. of startups are increasing, the demand for coworking spaces is also increasing.
Due to many benefits of coworking spaces like time flexibility, working environment, less monthly expenses etc –  startups, freelancers and even small business are moving towards the #trending coworking shared spaces.
Considering the benefits of coworking spaces, the question arises: which coworking shared space you should choose?. Out of so many options, choosing the right co-working space that fits your needs is the most important decision to make. Just make sure you pick the right one for your business needs.
Here's a quick checklist to help you out choosing the right co-working space for your business:
1. Get the right location :
Do you wish to work near your home or near your client's location? Or do you want to use coworking space as a place for meeting up your clients? Then choose the location which is near to the client's location as it will be convenient for them as well but let's take an example – if you have some family responsibilities then you should take coworking space near your to home only so that you can go back whenever required or in the case or an emergency.
2. Get the right level of support
Once you have decided the location, then compare the facilities they are offering. Like the two basic options for startups can be: choosing an incubator (offer a high level of support and more memberships charges) or you can choose a shared space (or a desk) that is open to anyone.
If you do not like disturbance or noise while working then you can choose incubators or private cabins, that have some extra charges but that can help you get more concentration towards your work. Or you can use the shared tables/area if you like sitting with different kind of people as it helps to get new ideas by fellow members.
3. Figure out how much-dedicated space you need for your business
You have to decide how much space you need as per your requirements? Like a single desk for yourself or according to no. of employees you have as you have to pay according to that only.
Coworking space offer sharing the space on a monthly or daily basis so you just have to pay for no. of seats you are looking for. Either you are working alone or you have a team of 6-7 people, you can still use coworking space.
4. Find out features/facilities and resources
You must need specific equipment or amenities for your startup. Like extensions, cubical, meeting room, conference room, cafeteria, 24*7 working hours or international working hours etc. Before jumping onto the solution, look for things you need.
Meeting with your clients in a coffee shop can be a bad idea as there is a lot of disturbance/music in the shop. So you can use coworking space for meeting with your clients where you can explain your business models easily with any disturbance which can be fruitful for your business.
5. Get the right vibe
Every coworking shared spaces have a different atmosphere. You might want a highly professional atmosphere, or a bit chilled out place. It is recommended yo visit the space before signing up the agreement.
Take a tour of the place,
Ask the fellow members in coworking space who are already there, take feedbacks like advantages or disadvantages.

Ask questions to owner/manager by giving a particular situation like power failure etc.

Check for parking spaces
6. Budget
The most important factor in choosing the right co-working space. While starting up the new business, there is already a lot of investment involved. So you definitely have to keep your expenses to a minimum. Choose the right coworking shared spaces that fit your pocket.
Due to competition in the market, there are a lot of coworking spaces options are available which are offering services at a competitive price but before choosing the right co-working space always check what all services are provided in the amount you are being offered. Sometimes we choose the cheaper rates but in that case, we have to suffer the quality and quantity of services