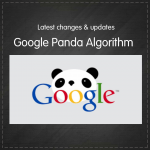 Lately, the buzz in the SEO world has been about the latest Google algorithm update that was rolled out in Aug 2018. While many websites lost their rankings in SERPs, many did climb up the ladder owing to this Google algorithm update.
Google, one of the largest aggregators of information, has always aimed to provide good quality and relevant content to the users. But the bad SEO practices like keyword stuffing, black-hat SEO, and hidden keywords lead to bad quality content popping up in top results on SERPs. And that's when google came up with its first major algorithm update of Google Panda in 2011 and since then Google has been on the hunt to pull down the irrelevant and bad quality content spread over the web space. Google Panda was released to do this job. There have been many major minor updates in the google panda since the first release but it was in 2016 that Google Panda was incorporated into the Google search algorithm itself.
Let's have look at the new SEO updates google search algorithm and how will it impact the websites in 2019.
The basic working of google panda is to assign a quality score to web pages which helps in ranking the pages on SERPs. And this quality score depends on many factors like content quality, backlinks to the page and content related to the keywords used for SEO and many more factors. The recent major core algorithmic update was mainly focused to bring down the sites with low quality score. And all this is backed up the Google's new machine learning system of RankBrain that brings in artificial intelligence while checking the content and ranking pages.
Major points that will be checked by new google update are grammatical and spelling mistakes, keyword stuffing in meta tags or hidden text, thin content i.e copied or not related content to the keywords used, deceptive ads, excessive ads on a page, machine generated content, websites that act as content farms, wrong or broken links and non-optimised pages. And all these factors contribute to the low-quality score for the web page.
So here's the piece of advice to improve the rankings amid the new Google algorithm update:
Keep a close check on the quality of the content. Avoid copied or irrelevant content. Be more authentic with the information presented on the web page. And avoid stuffing keywords because if the content is relevant Google will still rank you even if the exact keyword that is being ranked isn't used in the content. All thanks to the RankBrain system that's part of the Google search algorithm.

Have a close look at the user signals like the dwell time i.e amount of time user spends on your website. And also consider the click-through rates and bounce rates for your page. The number of shares for the webpage will give a pretty good idea of how your content would be ranked by Google.

Another factor that this new update looks into is the user experience. The design, speed, navigation, layouts, and a number of ads and how they are presented (if any) all together make up the good or bad user experience. Have honest feedback from someone about the look and feel of your webpage and make changes if needed.

The new Google update also takes into account the trust factor of the websites. For this have a proper privacy policy, contact information, terms and conditions on your web page. Keep the number of ads low and don't have deceptive ads that deceive the user into clicking on links.

And lastly, avoid over optimization of web pages by stuffing keywords or links or having hidden text on the page.
Overall Google wants to provide its a user with best results that actually serve the very purpose of googling it. This core google algorithm update has derived web space towards a better quality of content and enhanced user experience. Better the content and UX, more a user will spend time on the web page and that's what google panda wants to catch.
Have a close analysis for each of the mentioned factors and create a plan and be persistent and patient. It will take time before good results and rankings start pouring in for your web page.