Awareness is the key to a Change
Change happens through Excellence and Endurance of Leadership 6,500 km on Cycle: Mumbai to Ho Chi Minh City
A daring and daunting expedition is being undertaken by Capt Mohit Tomar and Mr. Mitesh Singh to cycle from Mumbai to Ho Chi Minh City (Vung Tau), a total distance of 6,500 km. In this tortuous journey, the team of two will traverse six countries viz. India, Bangladesh, Myanmar, Thailand, Cambodia and Vietnam, and touch three seas viz. Arabian Sea, Bay of Bengal and South China Sea.
Cause
To promote adventure-based leadership education as a part of curriculum to build character and charisma among (visit different schools on the way and address the students)
To bring awareness about water conservation (by collecting water from 03 seas by cycle)
Route of Influence
Mumbai- Vizaga- Kolkata- Dhaka- Silchar- Mandalay- Ang Thong- Siem Reap- Ho Chi Minh- Vung Tau
| | | |
| --- | --- | --- |
| Country | Distance | Route (in each country) |
| India | 2,926 km | Mumbai- Hyderabad- Vizag- Kolkata- Bangaon |
| Bangladesh | 434 km | Benapole (Petrapole)- Jessore- Dhaka- Sylhet- Dubag- Sutarkandi |
| India | 411 km | Sutarkandi- Silchar- Moreh |
| Myanmar | 1,503 km | Tamu – Khampat- Mandalay- Yangon- Myawaddy |
| Thailand | 592 km | Mae Sot- Ang Thong- Aranyprathet |
| Cambodia | 496 km | Krong Poi Pet- Siem Reap-Trapang Thlong |
| Vietnam | 225 km | Trapang Thlong Checkpost- Ho Chi Minh- Vung Tau |
Itinerary
Total Distance: 6,500 km
(Color-code: blue-India, Green-Bangladesh, Red-Myanmar, Black-Thai, Orange- Cambodia & Purple- Vietnam)
Day
Start
End
Km
Day
Start
End
Km
1
Mumbai
Lonavala
83
27
Silchar
Shantikhun
111
2
Lonavala
Pune
64
28
Shantikhun
Pallel Mamang
165
3
Pune
Indapur
140
29
Pallel Mamang
Tamu
69
4
Indapur
Solapur
111
30
Tamu
Kale
130
5
Solapur
Humnabad
144
31
Kale
REST
6
Humnabad
IISH Hyderabad
131
32
Kale
TBD
117
7
Hyderabd
REST
33
TBD
Monywa
117
8
IISH Hyderabad
Suryapet
196
34
Monywa
Mandalay
131
9
Suryapet
Kallur
112
35
Mandalay
Meiktila
155
10
Kallur
Rajahmundry
192
36
Meiktila
Naypytaw
145
11
Rajahmundry
Vizag
190
37
Naypytaw
Taungoo
115
12
Vizag
Tuni
100
38
Taungoo
Myo Chaung
117
13
Tuni
Vizag
91
39
Myo Chaung
Kyaikto
132
14
Vizag
Srikakulam
116
40
Kyaikto
Hpa An
119
15
Srikakulam
Brahmapur
160
41
Hpa An
Myawaddy
131
16
Brahmapur
Cuttack
192
42
Myawaddy
REST
17
Cuttack
Balasor
174
43
Myawaddy
Tak
94
18
Balasor
Kharagpur
148
44
Tak
Nakhon Sawan
182
19
Kharagpur
Kolkata
137
45
Nakhon Sawan
Ang Thong
138
20
Kolkata
REST
46
Ang Thong
Prachin Buri
162
21
Kolkata
Bangaon
103
47
Prachin Buri
Aranyaprathet
110
22
Bangaon
Magura
92
48
Krong Poi Pet
Siem Reap
152
23
Magura
Dhaka
148
49
Siem Reap
Stueng Sean
162
24
Dhaka
Shaistaganj
152
50
Stueng Sean
Trapang Thlong
182
25
Shaistaganj
Sutarkandi
134
51
Trapang Thlong
Ho Chi Minh
129
26
Sutarkandi
Silchar
66
52
Ho Chi Minh
Vung Tau
96
Team
Capt Mohit Tomar. Leadership Trainer, Inspirational Speaker, Mountaineer and Author An ex-Army officer and an IIM alumnus, with a diverse experience
ranging from military to corporate to education, Capt Mohit Tomar, lives his purpose and passion of unlocking human potential through his inspiring and insightful training programs. Trained in advanced mountaineering skills, he attempted Mt Everest and climbed peaks such as Mt Kilimanjaro (Highest peak of Africa), Mt Fuji (Highest peak of Japan), Mt Bonette (Argentina), Mt Yunam (Ladakh), Mt Kinabalu (Highest Peak of Malaysia) and others. His book on leadership, 'When Journey becomes the Goal' is one of the best sellers.
Mr. Mitesh Singh. Leadership Trainer, Mountaineer and Adventure consultant
A young dynamic leadership trainer who influences and inspires through action. He weaves his corporate experience and adventure endeavors to create impactful training programs. As an expert expedition organizer, he led successful expeditions nationally and internationally. His innovative ideas to create leadership training tools has acclaimed him as a worldwide recognition.
We need your support!
Such an audacious journey cannot be completed alone. Your support in any capacity will be of great help to us. As a token of thanksgiving, we will
Display your brand on flag/t-shirt/placard while riding the route
Speak at your organization
Contact us at
Capt Mohit Tomar: +91-8095909555 
EMAIL :  mohit.tomar@indusschoolofleadership.com
Mitesh Singh:  +91-9654282897  
NikhIl Jadhav
Entrepreneur, Filmmaker, Video Marketer
I started working with a Youtube channel called Sarphira this January(2019). Sarphira was creating comedy sketches around our daily life, I felt the content was really good but the traffic they were driving even after uploading some 15 videos back to back consistently was low, like really low.
This is what I was looking at two weeks in January. I was looking at a channel which has good content, which is consistent and is breaking their bone creating every video but barely getting any traction. The only question I had was where f#@k is my traffic?
In my first two weeks I vigorously tested for traffic, for content, for thumbnail, for niche and for relevant tags by making them upload very different videos back to back. The two spikes you see above are those uploads, Then in the third week I had a rough idea of what was going on , what will actually work and get us good traffic. And we uploaded one more video, It blasted, did 100k in a day!
Something worked, but what? so, I went in more deep and ran three more tests, one got me average traffic, one got barely anything and the third did the first million in three weeks of it's upload date. I am not kidding, I have attached the screen shot below, check it.
I will tell you exactly what I learned working with Sarphira and helping them grow from 20k views to 4m views for next six months. First thing I learned was:
1. Understand Your Traffic
Understand what your traffic is watching, understand the most important difference between Google and Youtube, With Google you'll grow fast if your content is unique in your niche while for Youtube you grow if you create content on basis of where "Your" traffic is heading, I will elaborate on that using a video we created around "Holi", Indian festival of colors. Honestly, it was prediction that we were going to get good traffic for the Holi video.
How did we know that? We checked, how? using Google Trends, how? I will show you.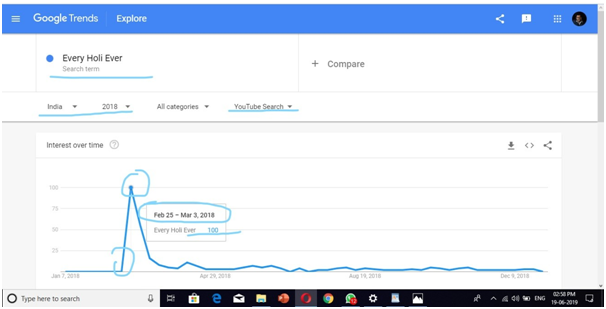 I went on google trends, searched for Holi keyword and checked when does the keyword starts gaining traction and how much traffic does it gain. Holi was on 2nd March in 2018 and Holi keyword started gaining crazy traction from 25th Feb. 2018 to 3rd March 2018 on Youtube, 25th March was 1 week prior Holi in 2018.
So, to gain good traction all I had to do was place my video under Holi keyword atleast 10 days prior, as we used to upload video on every alternate thursday, we had to upload on 14th March 2019 as Holi was on 21st March this year. What was the result? Check it for yourself!
2. Stop Sharing With Your Friends
But Why? Just imagine if all your traffic is just your friends? Yes, that's definitely a good thing, you have good friend, now think of it this way, are you actually getting any traffic from youtube organically? Probably yes or probably no, how can you know it for sure? Eliminate all unpredictable factors from the equation. Yes, stop sharing with any unpredictable traffic source (including your friends & family).
3. Always Keep Your Eye On Your Analytics
This is the biggest mistake I made since we started gaining good traction. I did not track analytics for one of our recent video and guess what? I lost on a huge traffic bump, what exactly do I mean by keep a keen eye on your analytics?
Look at the above analytics, I recorded this a week after we uploaded this video. I was not checking it on regular basis, only if I had checked it we would have leverage on that major traffic bump. The conversion was barely 5% when I checked, I figured out what was the problem and the video blasted like crazy. I changed a few tags and changed the thumbnail. Look at it now!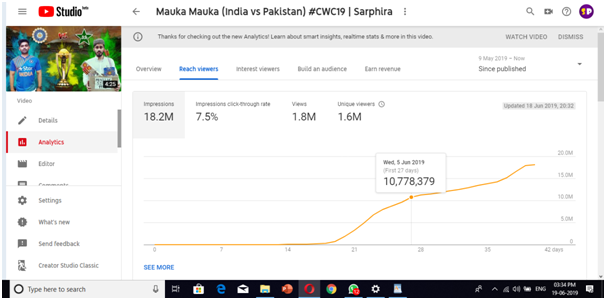 4. Change The Thumbnail If Your Video Is Not Getting Traffic
With the above video the problem was the thumbnail. The Content Manager in Sarphira uploaded the video with a thumbnail which was not clear enough and we lost the game.
When we made the thumbnail change the traffic blasted, it grew five times faster.
5. Don't Go Overboard With Tags
I have seen many accounts (even Sarphira) using tags which are totally irrelevant to the content they have created. I can understand why you may want to use all of the 500 characters but don't do that, keep it focused on your content, your channel and your genre.
I will show an example from one good Youtuber called Vanessa Lau who grew really fast in the influencer niche. I haven't seen any account yet who has more focused tags on their videos than her. Even my tags aren't that focused majority of times, check out how she uses tags below and try as close as you can to follow what she does.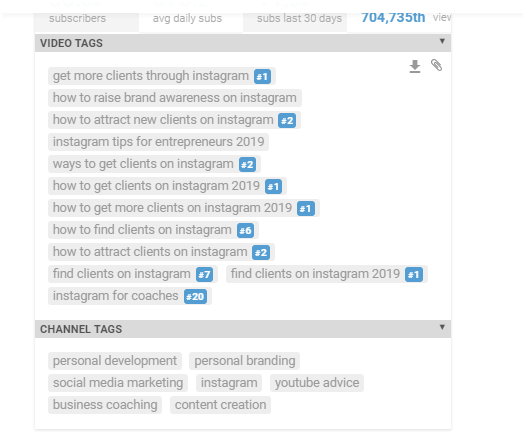 Look at her tags, she is ranking on every one of them and all of her tags are way focused than the tags you will find on any average video. I believe that is the only reason why she has grown her channel from 30k to 86k in mere 5 months. (the plugin I used to see her tags is called VidIQ, its free)
6. Your Description Matters
You might or might not have noticed this, the description is one of the way Youtube filters you content for the keywords you are trying to rank for. I will show you an example: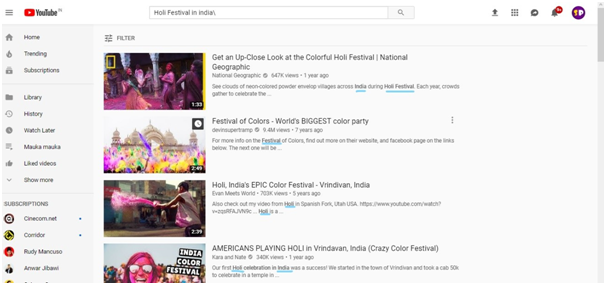 If you see the words I have highlighted, all of them are highlighted by Youtube too. Why? Because youtube has used the words in the description and matched it with my search query and then delivered them to me in search result. Use this tip to your advantage but again don't go overboard with keyword stuffing, keep it subtle but don't forget to include your keywords in the description.
7. Consistency Don't Matter
Yes, It doesn't. It might be hard for you to believe me on this one because majority of the big name on internet go hard on being consistent and uploading on a specified time and repeating it. But consistency drives traffic is the biggest myth for youtube, consistency don't matter, I have uploaded in morning, at night, in afternoon and even in midnight at times. The traction I got for each video was totally irrespective of time. There was once when we didn't upload for two weeks still the next video we uploaded got us around 8k subs. So, don't break your bone and make a hole in your pocket in being consistent, trust me on this one consistency don't matter. Create good content around where there is more traffic you ll grow leaps and bounds.
I hope this pushes you guys to either start a start Youtube Channel or helps you to scale on Youtube Faster. Let me know if this helps you, cheers!
Published by
NikhIl Jadhav
Entrepreneur, Filmmaker, Video Marketer
Instagram               : https://www.instagram.com/naam_production/
Linked In                 : https://www.linkedin.com/in/nikhjadhav/
Contact                   : 9833800854
Mail                         :  team@naamproduction.com
Facebook                : https://www.facebook.com/naamvideoproduction/
Website                   : https://www.naamproduction.com
   10 Tips For Cheap Travel Around The World
I'm always looking for tips to help travelers save money! Here are some tips to help you travel for cheap. Most of us love to travel and explore new destinations, but a lot of things hold us back. Of these, money is the most frequently cited factor. It's the only thing that prevents most of us from Going out and exploring exotic lands. This article is for all those who think that you have to be rich to travel. There are many ways to travel cheaply in any country and save money. Here are 10 tips that will help you see the world on a small budget. You can find more travel tips at
www.travellens.co

Plan your trip
Before traveling, it is important to research the destination. Knowing a little about the country, its people, its culture, its customs, its food, etc., you will avoid a lot of problems. A little research will let you know the expensive cities that may need to be avoided. Similarly, you must also plan the places you will visit and the time you spend there. Traveling with a plan is especially important in case you are a budget traveler, because planning everything in advance will save you unexpected expenses.
Choose wisely your airline
Flying can be very expensive if you do not choose the right airline for your trip. A cheap airline can save you money if you are smart enough to avoid extra costs. Additional fees may apply if you are looking for better benefits, such as the seat of your choice, or if you want to settle together if you are traveling in a group. Baggage fees may apply, even if you do not check in your luggage. Cheap airlines can save you money if you are willing to sacrifice some comfort. I invite you to read these few secrets to find cheap airline tickets before you search.
Travel out of season
Traveling in high season can cost you more money, so it's wise to avoid trips in high season. Prices of airlines, hotels and food increase during school holidays and at occasions like Christmas, Easter, Eid and Diwali. You can save a lot of money because airlines and hotels reduce their prices to attract customers out of season. In addition, you also avoid crowds of tourists at your destination.
Eat local food
For travelers on a budget, it is advisable to eat what the locals eat. Overpriced cafes and restaurants can cost you a lot of money that you could otherwise save by going to local places that serve fresh meals. This way you can get a much more authentic experience. In addition, it is best to avoid eating near famous tourist attractions because the food is necessarily expensive. Cooking yourself or preparing a sandwich or hamburger can save you a lot of money.
Save money on transportation
Transportation is a major factor that consumes a lot of our money on a trip. Becoming familiar with the public transportation system can save you a lot of time and money. Local buses and trains are cheap and offer more opportunities to meet and get to know the locals. Services like Uber can also be used because they are cheaper and more reliable than local taxis. Having a means of transportation is a better option if you plan to stay in one place for a long time. Buy a car or bike to avoid the hassle of public transport, although this can sometimes become more difficult, but that's why we travel. You will be challenged every day; You will be faced with a breakdown, a puncture, you will lose yourself, but you will learn every day during this kind of trip. In addition, it can be more adventurous because it allows you to occasionally camp, sleep in your vehicle and save money that will otherwise be spent on the hotel. At the end of your trip, you can resell the vehicle and recover much of your money spent on transportation.
Use community platforms
Using a community platform can save you a lot of money because you can find cheaper accommodation, meals and transportation. Sites such as Airbnb (for accommodation), EatWith (meals), BlaBlaCar (carpooling) have transformed the travel industry by making it much cheaper and more accessible. You also get in touch with the locals and learn a lot about the place.
Use travel discounts
Never forget to use the travel discounts that exist on the web. If you have a promo code, you can save money on flights, travel, shopping and a host of other things around the world. There are many sites doing some research, you can see all the Go Voyages discounts on this site for example. GO Voyages is one of the largest online sellers of airline tickets in France and offers a wide choice of flight deals, at the best prices and from cities around the world and with this kind of travel discounts you can save up to 40% discount or deduct 100 € on your ticket.
Walk more
You do not need to take a taxi or public transport to get anywhere, especially when you want to save money. If the place of visit is within a reasonable walking distance for you, go there on foot. As you walk through town, you will experience immersive and culturally enriching experiences.
Work while traveling
There are countless opportunities to make money nowadays. All you need is a laptop with a stable internet connection. With the increasing penetration of the internet, <a href="https://www.careermetis.com/actionable-tips-successful-freelance-career-2019/">freelancers</a> can now earn a lot of money by living anywhere they want in the world while traveling. You can also make money without a long-term job, for example teaching skiing in winter or a language in another country. The opportunities to make money are many if you put in a little time and effort.
Be flexible with your plans
When traveling on a limited budget, it's possible that things are not going as planned. Bad things can happen to you from time to time, and you should be ready for that. You could end up in a bad situation and lose money; you might not get a refund for something that would have been insured. When such misfortunes occur, you must accept the changes and adjust your plans accordingly.
The impact of blockchain is no longer a matter of imagination and science fiction. Tech behemoths such as IBM have spent significant resources towards conducting comprehensive studies to understand how vital blockchain can be for healthcare, and dozens of high-octane blockchain startups have set out to revolutionize the healthcare space for the better.
The intersection of blockchain, tokenization, and smart contracts with the healthcare industry paves the way for new and highly innovative solutions to solve problems that have been festering for decades.
The startups in this article are utilizing the above technologies to fight dangerous and rampant global pharmaceutical counterfeiting, streamline the transmission and storage of medical records, and even create long-term incentivization-based loyalty programs for dental communities.
1. Fighting Fake Pharma with MediLedger
The pharmaceutical industry has been slowly bleeding out to the tune of $75 billion every year due to counterfeit drugs. With over 100,000 deaths worldwide directly linked to the use of these counterfeit drugs, fake pharma not only poses a global threat to corporate innovation but also to thousands of people unknowingly taking drugs that may end up killing them.
The fake pharma problem doesn't show any signs of slowing down; experts estimate that an investment of $1000 in a counterfeit prescription drug operation could result in a $30,000 return – nearly ten times the profit of trafficking heroin. To spice up the deal for pharma bootleggers, the criminal penalties for selling counterfeit medications are far less than dealing their more illegal and nefarious cousins, making the profit margins higher and the risks lower.
The rise of internet pharmacies has also made it incredibly difficult for authorities to keep up with the tracking and verification of billions of pills shipped out every year. United States consumers are largely oblivious to the dangers of purchasing drugs online, as an estimated 36 million Americans have been able to buy drugs online without a valid prescription. Stricter regulatory supervision would require a technological asset to help track supply chains at scale.
That's where MediLedger comes in. MediLedger is an open and decentralized network for the pharmaceutical supply chain. Blockchain has long been praised for its supply chain applications, and it has already been used broadly in large shipping networks that share similar logistical concerns as the pharmaceutical industry.
Using a project such as MediLedger allows pharmacists and patients to verify the legitimacy of their drugs, and even see minute details such as the date and manufacturing details for each order. MediLedger utilizes features such as compliance, track, trace, and security protocols to create a cost-effective GS1-compliant verification system for pharmaceutical companies. Regulators are also able to use the MediLedger platform to obtain crucial information whenever needed.
2. Decreasing the Patient's Need for Patience with MedicalChain
Medical records create several cumbersome responsibilities for doctors, hospitals, pharmacists, and patients, particularly for maintenance and storage.
Medicalchain utilizes blockchain to securely store and maintain health records in a single location, allowing for different organizations such as doctor offices, hospitals, pharmacists, laboratories, and pharmacists to request permission to access each patient's record.
Each patient would essentially be assigned a unique blockchain fingerprint that verifies their identity and provides them will full access and control over their data. Patients will be able to grant different levels of access to various users by setting access permissions and designating who is able to write data to their blockchain.
This feature is particularly notable in the context of the emerging trend of telemedicine, or the online consultation between doctors and patients using a webcam. Medicalchain would make it possible for patients to grant their digital doctor access to their records, ultimately leading to more in-depth consultations.
Maintaining medical records on the Medicalchainblockchain would not only offer higher degrees of flexibility in treatment, but is also much less expensive than current methods.
3. Incentivizing Patient Responsibility with Dentacoin
Although it might not be your typical healthcare startup, Dentacoin showcases a unique consumer-facing application of blockchain and smart contracts.
For many people, going to the dentist is an experience forced by circumstance rather than preventative care, and procedures such as root canals can be very expensive and painful. $440 billion is spent on dental treatment globally every year, and according to the American Dental Association, 90% of these expenses can be avoided if patients visit a dentist at least three times a year for early preventative treatments and checkups, while also establishing healthier dental habits like flossing and better nutrition.
Dentacoin removes the need for big insurance companies acting as intermediaries via smart contracts that link patients directly with dentists.
Essentially, each smart contract encourages patients to take control of their preemptive dental care such as flossing, proper nutrition, and routine check-ups with dentists. Additionally, patients can earn rewards by providing accurate reviews for each visit to help increase the overall quality of the dental community. Since these reviews are stored on the blockchain, they're immutable and can't be manipulated.
Dentists are incentivized to ensure long-term dental success for each patient using the Dentacoin network and are rewarded in small monthly contributions of the Dentacoin token, which can later be sold for fiat currency on a variety of exchanges.
Since its launch on August 17th, 2017, there are over 4093 dentists using the Dentacoin platform.
Final Thoughts
Blockchain enables a fundamental increase in the technological capabilities of multiple sectors that focus on the well-being and longevity of the human population. The startups listed above are not only showcasing how this new technology can impact such a critical industry such as healthcare, but they're also paving the way for countless future startups and applications.
** Original article from SingleCare.
Mobile App testing Check for QA
 
Testing Type
Detailed
Unit Testing
Testing a particular set of code independent of other functionalities of the App.
Functional Testing
Testing All possible positive or True test Scenarios, Specifically Called as Business Flows
Integration Testing
Social connect, Payment Gateway, Cloud Services, Web Based Portal integration, Data sink if any.
Network Test
Ways to create Network zone and no network zone,

Check how app behaves in this.

Try disabling wifi while using app.

Try stopping data flow by using IP via network tool.

Try Stopping the Application using application manager.

Thread or instance Test
If we have multiple task or window functionality, artificially  create many instances & Check
Regression Testing
Most Important part, every time new release is exposed. QA should do regression testing. This is up to QA's Intelligence to decide which part might affect.
Performance Testing
If Possible Try Atomizing the app flows to test the performance of the app, using emulators or paid tools
Usability Testing
Page Scrolling, Navigation Between Screens, Zoom in & Zoom out By Tapping, Buttons color, size, Coordinates, Labels & Forms View, Image, Data Grid View, Menu Navigation, Back & Next flow test.

Interrupt handling
Call, Conf Call, Message  etc
Memory Leak
Most of the apps in Mobile world crash due to memory leak.

In such scenarios on should always take help of App developers, mostly this occur in objects which the coder selects.

Security Test
Brute force test, username & password test, Session Expiry test.

Special in case of IOS APP (SANDBOX Test with Install & Uninstall)

Data Testing
Try Adding some negative or out of range values and check if the app behaves normal or not
Data Migration Test
Check Data Migration test ie: SD To Phone and Vice versa.
Installation / Uninstall
Installation Success, Uninstall Success, Side Effect test, App Start Stop Behavior
Backup Test
Archive functionality, Cloud, Email download link, phone backup etc
Version Upgrade
Check if app responds while getting upgraded