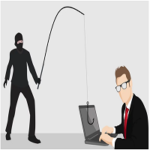 Cyber Security has become one of the priorities of businesses. Businesses have to follow certain rules and regulations in order to remain compliant. One side where organisations are building their Information Security and Cyber Security capabilities on the other hand it is equally important to have a knowledgeable leadership which is at least aware of basic Cyber Security concepts.
Cyber-crimes and attacks creates a huge impact our organisation' security, organisation's financial growth, and consumer confidence. Each and every business regardless of size or geographic location, is a potential target for hackers. Preparing for and responding to this growing cyber threat is necessary – and it is an executive level responsibility.
There have been many cases where top management becomes victim of cyber security frauds and incidents because of lack of information security awareness.
Although cyber awareness is mandatory for everyone working in the organisation, however it is more essential for the leadership.
Reasons, why top management should attend cyber security trainings:
Top management often works on privileged accounts, i.e. mostly they work with admin privileges in their systems, hence can lose critical information during any cyber-attack.
Generally top management IT systems does not comes under continuous monitoring, so it becomes easier for the hacker or malicious user to intrude inside the system and remain undetected.
Top management has very crucial data about the business which has very high "Hack Value" i.e. the data is worth hacking which generally attracts hackers and competitor.
Top management generally are the not aware of cyber security and information security's day to day things, so they are most vulnerable for any cyber threat.
Top management is mostly using their IT systems outside the organisations network such as conferences, hotel rooms, investors meeting etc since they travel a lot for business purposes. They should be aware of dos and don'ts of cyber security and information security.
Data leakage from any top management's system could damage the organisations reputation.
Top Management often fell prey of cyber security incidents because of their popularity among the rest of world and their credentials available online
Top managers are most of the times very good management professional, however they lack good IT security skillset, which could be achieved by attending cyber security awareness trainings
What is the Role of Leadership in Information Security Management System (ISMS)?
Leadership plays very important role in Information Security Management System.
Leadership defines the policies and procedures for Cyber Security and Information Security with respect to the regulatory compliance.
Leadership provides appropriate financial, technical and human resources for maintaining Information and Cyber Security.
Leadership is responsible for periodic review of Information Security and Cyber Security status of the organisation.
Leadership is also responsible for periodic review of risk pertaining to Cyber Security and information security and treatment of high level risk which could be detrimental for the organisation's growth
Leadership is responsible for Risk Treatment: Risk Mitigation, Risk Avoidance, Risk Acceptance, and Risk Sharing. The resources to mitigate Information Security and Cyber Security risk shall be provided by leadership
What should be the content of Cyber Security awareness training?
 Training should give a basic understanding of information security and cyber security. Clear definition and examples of Confidentiality, Integrity and Availability should be provided.
Basics of information systems
Definitions and examples of IT systems like networks and application
Examples of Information Assets: Networks, Application, People, Documents
Importance of cyber security and information security
Difference between Information Technology and Information Security Governance system
Importance of reviewing information security and Cyber security status of the organisation.
Difference between IT security and Information Security
Importance of developing Information Security and Cyber Security training and awareness among employees including vendors and contractual staff.
Regular Development of competence among the employees for handling information security and cyber security issues.
Importance of business continuity and disaster recovery.
Common threat scenarios like phishing, spoofing, Vishing (voice phishing) should also be demonstrated during information security training.
Risk pertaining to third party or services outsourcing.
Information and cyber security compliance.
Change management, capacity management, backup management and incident management.
Importance of vendor risk assessment and third party security audits.
Basics of user access management and asset management
Aspects of vulnerability management and patch management.
Importance and process of Cyber security forensics process.
Basics of encryptions and importance of its usage for information security.
Cyber resilience and table top exercises.
Information Technology and Information Security works hand in hand. Both compliments each other however both are different domains. In many cases it has been observed that due to lack of appropriate knowledge and training many leaders/Top Management are unable to take right decision pertaining to information security and Cyber security which could lead to serious compliance issues sometimes. Attending an awareness session shall be definitely helpful for organisations growth.
A comprehensive training program will help the Top Management to understand the basics of Information and Cyber Security threats and risks. It's also help the leadership to understand how the compliance for the same should be managed.
Organizations that are the most prepared to mitigate cyber risks have top management/leadership that are aware and informed of the current cyber security and information security threat environment. Executives and Boards of Directors set organisations policy, approve financial & human resource budget, and provide oversight and leadership. Setting the governance from the top is essential. Cyber security risk management is often considered as an IT issue, however it is a cross-departmental responsibility that requires executive leadership and support. It is very important of any organisation to identify and mitigate any kind of cyber security or information security risk.
There are many online and in house customised training programmes are available worldwide for enhancing cyber security skills at each level in the organisation. A cyber security awareness session would definitely be helpful in order to understand the current risk scenario and how to deal with those situations.
#Tags: Data Breaches,training, top management,executives
#Keywords:Cyber Security, Information security,training,risk, threats,leadership,capacity management, change management, backup,encryption,hack value,
NikhIl Jadhav
Entrepreneur, Filmmaker, Video Marketer
I started working with a Youtube channel called Sarphira this January(2019). Sarphira was creating comedy sketches around our daily life, I felt the content was really good but the traffic they were driving even after uploading some 15 videos back to back consistently was low, like really low.
This is what I was looking at two weeks in January. I was looking at a channel which has good content, which is consistent and is breaking their bone creating every video but barely getting any traction. The only question I had was where f#@k is my traffic?
In my first two weeks I vigorously tested for traffic, for content, for thumbnail, for niche and for relevant tags by making them upload very different videos back to back. The two spikes you see above are those uploads, Then in the third week I had a rough idea of what was going on , what will actually work and get us good traffic. And we uploaded one more video, It blasted, did 100k in a day!
Something worked, but what? so, I went in more deep and ran three more tests, one got me average traffic, one got barely anything and the third did the first million in three weeks of it's upload date. I am not kidding, I have attached the screen shot below, check it.
I will tell you exactly what I learned working with Sarphira and helping them grow from 20k views to 4m views for next six months. First thing I learned was:
1. Understand Your Traffic
Understand what your traffic is watching, understand the most important difference between Google and Youtube, With Google you'll grow fast if your content is unique in your niche while for Youtube you grow if you create content on basis of where "Your" traffic is heading, I will elaborate on that using a video we created around "Holi", Indian festival of colors. Honestly, it was prediction that we were going to get good traffic for the Holi video.
How did we know that? We checked, how? using Google Trends, how? I will show you.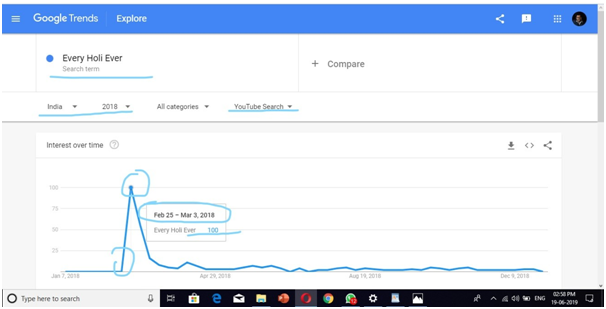 I went on google trends, searched for Holi keyword and checked when does the keyword starts gaining traction and how much traffic does it gain. Holi was on 2nd March in 2018 and Holi keyword started gaining crazy traction from 25th Feb. 2018 to 3rd March 2018 on Youtube, 25th March was 1 week prior Holi in 2018.
So, to gain good traction all I had to do was place my video under Holi keyword atleast 10 days prior, as we used to upload video on every alternate thursday, we had to upload on 14th March 2019 as Holi was on 21st March this year. What was the result? Check it for yourself!
2. Stop Sharing With Your Friends
But Why? Just imagine if all your traffic is just your friends? Yes, that's definitely a good thing, you have good friend, now think of it this way, are you actually getting any traffic from youtube organically? Probably yes or probably no, how can you know it for sure? Eliminate all unpredictable factors from the equation. Yes, stop sharing with any unpredictable traffic source (including your friends & family).
3. Always Keep Your Eye On Your Analytics
This is the biggest mistake I made since we started gaining good traction. I did not track analytics for one of our recent video and guess what? I lost on a huge traffic bump, what exactly do I mean by keep a keen eye on your analytics?
Look at the above analytics, I recorded this a week after we uploaded this video. I was not checking it on regular basis, only if I had checked it we would have leverage on that major traffic bump. The conversion was barely 5% when I checked, I figured out what was the problem and the video blasted like crazy. I changed a few tags and changed the thumbnail. Look at it now!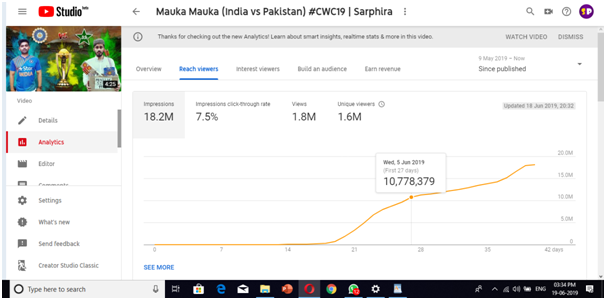 4. Change The Thumbnail If Your Video Is Not Getting Traffic
With the above video the problem was the thumbnail. The Content Manager in Sarphira uploaded the video with a thumbnail which was not clear enough and we lost the game.
When we made the thumbnail change the traffic blasted, it grew five times faster.
5. Don't Go Overboard With Tags
I have seen many accounts (even Sarphira) using tags which are totally irrelevant to the content they have created. I can understand why you may want to use all of the 500 characters but don't do that, keep it focused on your content, your channel and your genre.
I will show an example from one good Youtuber called Vanessa Lau who grew really fast in the influencer niche. I haven't seen any account yet who has more focused tags on their videos than her. Even my tags aren't that focused majority of times, check out how she uses tags below and try as close as you can to follow what she does.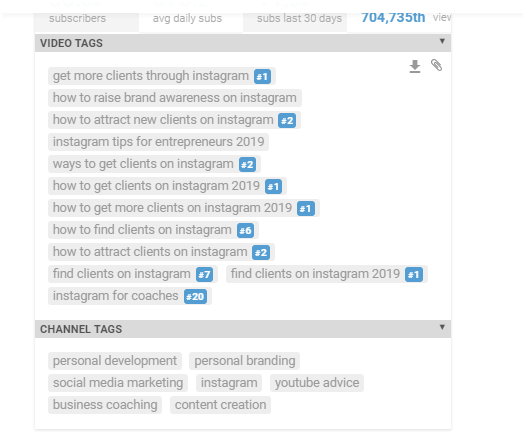 Look at her tags, she is ranking on every one of them and all of her tags are way focused than the tags you will find on any average video. I believe that is the only reason why she has grown her channel from 30k to 86k in mere 5 months. (the plugin I used to see her tags is called VidIQ, its free)
6. Your Description Matters
You might or might not have noticed this, the description is one of the way Youtube filters you content for the keywords you are trying to rank for. I will show you an example: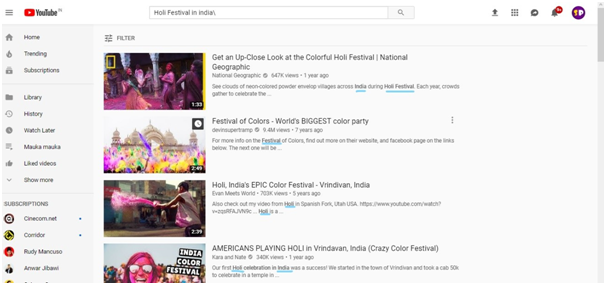 If you see the words I have highlighted, all of them are highlighted by Youtube too. Why? Because youtube has used the words in the description and matched it with my search query and then delivered them to me in search result. Use this tip to your advantage but again don't go overboard with keyword stuffing, keep it subtle but don't forget to include your keywords in the description.
7. Consistency Don't Matter
Yes, It doesn't. It might be hard for you to believe me on this one because majority of the big name on internet go hard on being consistent and uploading on a specified time and repeating it. But consistency drives traffic is the biggest myth for youtube, consistency don't matter, I have uploaded in morning, at night, in afternoon and even in midnight at times. The traction I got for each video was totally irrespective of time. There was once when we didn't upload for two weeks still the next video we uploaded got us around 8k subs. So, don't break your bone and make a hole in your pocket in being consistent, trust me on this one consistency don't matter. Create good content around where there is more traffic you ll grow leaps and bounds.
I hope this pushes you guys to either start a start Youtube Channel or helps you to scale on Youtube Faster. Let me know if this helps you, cheers!
Published by
NikhIl Jadhav
Entrepreneur, Filmmaker, Video Marketer
Instagram               : https://www.instagram.com/naam_production/
Linked In                 : https://www.linkedin.com/in/nikhjadhav/
Contact                   : 9833800854
Mail                         :  team@naamproduction.com
Facebook                : https://www.facebook.com/naamvideoproduction/
Website                   : https://www.naamproduction.com
Mobile App testing Check for QA
 
Testing Type
Detailed
Unit Testing
Testing a particular set of code independent of other functionalities of the App.
Functional Testing
Testing All possible positive or True test Scenarios, Specifically Called as Business Flows
Integration Testing
Social connect, Payment Gateway, Cloud Services, Web Based Portal integration, Data sink if any.
Network Test
Ways to create Network zone and no network zone,

Check how app behaves in this.

Try disabling wifi while using app.

Try stopping data flow by using IP via network tool.

Try Stopping the Application using application manager.

Thread or instance Test
If we have multiple task or window functionality, artificially  create many instances & Check
Regression Testing
Most Important part, every time new release is exposed. QA should do regression testing. This is up to QA's Intelligence to decide which part might affect.
Performance Testing
If Possible Try Atomizing the app flows to test the performance of the app, using emulators or paid tools
Usability Testing
Page Scrolling, Navigation Between Screens, Zoom in & Zoom out By Tapping, Buttons color, size, Coordinates, Labels & Forms View, Image, Data Grid View, Menu Navigation, Back & Next flow test.

Interrupt handling
Call, Conf Call, Message  etc
Memory Leak
Most of the apps in Mobile world crash due to memory leak.

In such scenarios on should always take help of App developers, mostly this occur in objects which the coder selects.

Security Test
Brute force test, username & password test, Session Expiry test.

Special in case of IOS APP (SANDBOX Test with Install & Uninstall)

Data Testing
Try Adding some negative or out of range values and check if the app behaves normal or not
Data Migration Test
Check Data Migration test ie: SD To Phone and Vice versa.
Installation / Uninstall
Installation Success, Uninstall Success, Side Effect test, App Start Stop Behavior
Backup Test
Archive functionality, Cloud, Email download link, phone backup etc
Version Upgrade
Check if app responds while getting upgraded