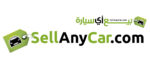 Short Business Description
SellAnyCar.com is the most reliable platform to sell used cars in the Kingdom of Saudi Arabia.
Long Business Description
It is the most suitable platform to sell used vehicles for every car seller, whether they have any previous experience or not. As a car seller, it can be difficult to find a reliable platform and a fair price to sell a used car. However, if you sell your used car to SellAnyCar.com, you are guaranteed to get a fair price for your vehicle within 30 minutes and in a safe and hassle-free way.
SellAnyCar.com is a safe and reliable platform that offers a simple car selling process. We, at SellAnyCar.com, aim to make it easy, convenient and hassle-free for every car seller to sell their used car at maximum profit. We guarantee a transparent car selling experience and offer around the clock customer support for the convenience of the car sellers. Our car experts thoroughly inspect the physical condition of every used car to ensure that the car sellers get a fair price for the used car. The resale price of a used car is determined on the basis of its make, model, condition, age and a few other basic details. These details make it easy for the car experts to calculate an estimated resale price that is fair and beneficial for the car sellers.
SellAnyCar.com is, therefore, the best platform every car seller should use to sell a used car because it is safe, user-friendly, free-to-use and helps every car seller have a hassle-free, convenient and beneficial car selling experience.