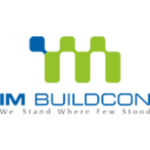 Short Business Description
IM Buildcon is the perfect place for you to be, if you are a home buyer looking for affordable luxury homes in Goregaon. You can benefit from the governmental scheme here that has been implemented to assist common people with buying luxurious apartments at reasonable prices.

Long Business Description
IM Buildcon is a popular brand name amongst the finest known for innovation, lucidity and excellence amongst a ton of other adjectives that any real estate company in Mumbai must be associated with. The company has a high benchmark of erecting excellent residential & commercial construction projects spread across the prime areas in Mumbai, Palghar & Chennai, delivering many important landmarks in the cities.
Since its establishment in 2011, IM Buildcon and team has inexorably worked towards constructing apartments in Mumbai that meet high-class standards. It's latest luxurious project i.e Applaud 38, is one of the high-level residential projects in Mumbai offering 1 BHK & 2 BHK apartments in Goregaon for those looking to buy or invest in palatial living spaces at reasonable prices.